Popular Hons Hits re-launched in style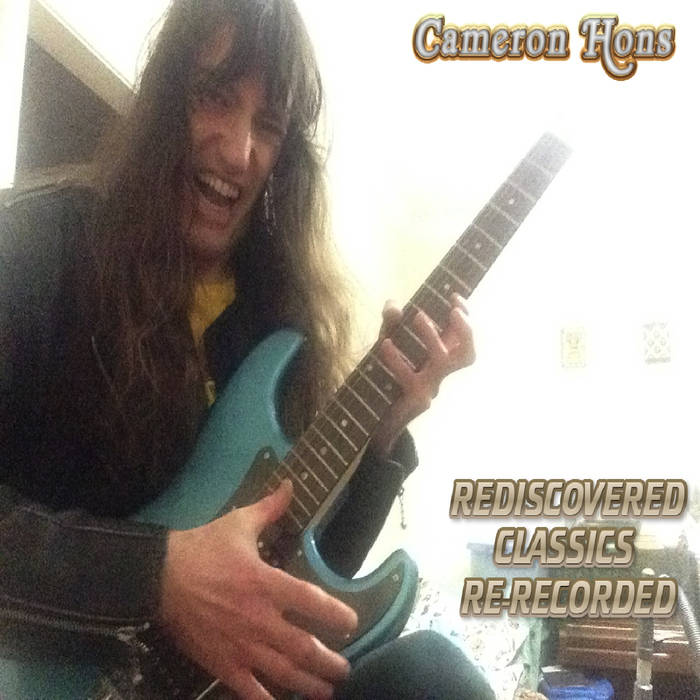 Cameron Hons has got his musical hands on state-of-the art equipment and re-recorded some of the classics that have placed his craft on the global map. The hits are in crystal clear stereo. It brings depth and pleasure to earbuds, headphones and cans with Rediscovered Classics Re-recorded. Darren McErlain from AirFM reviews the new CD.
The new album Rediscovered Classics Re-recorded has surprised many fans around the world! It seemed Cameron Hons wasn't going to do another re-recorded version. He didn't want to "waste hundreds of dollars" to hire studios, producers and work within strict time limitations for 'best-of" albums again – until now.
"I didn't expect I'd do another re-recorded album but I recently bought a new music interface; a Focusrite Scarlet 2i2 and it makes my music sound so much better," said an enthusiastic Hons.
The professional recording studio has changed since the 1990s, and allows music producers to make CD's and digital albums in the comfort of their own homes.
"I have never used an 8-Track machine (I know a friend of mine who has one), but I have never used it for recording, although I love the sound on those mixes," said Hons.
The track 'It's not me it's you' opens with an ostinato on keys that floods the listener with anticipation and emotions. It then breaks into vocals, and brings in percussion that takes the audience to another world. Using a monologic stream of consciousness, the lyrics use reverse psychology to blame 'you', and not 'me'. It is designed to get the whole of humanity thinking about the last thing they just did (or was that the time before?)!
Hons uses a very clever technique in 'Broadcast Blues' of helping the listener feel they are in the recording studio. It is a three-dimensional experience that makes you feel you are playing 'air-guitar' and touching the frets. The fingers get into bar-chord mode, and go up the neck of the guitar. It simply makes the song very interactive. The listener can feel the energy in the music, and can be tricked into thinking they need to put the metaphoric guitar down – simply to take a break.
There is one track that has a strong 70's feel. The rhythm guitar in 'Rock myself to sleep' enacts a trance-like pattern, that takes a weary audience into a subconscious level of slumber. While Hons plays on the word 'rock' as the verb, rather than the noun, it does motivate the people to rock themselves into the land of nod….until the next zzzzz.
Songs are meant to be thought provoking and Hons does an excellent job with making his audience literally 'Think Twice'. The introduction sounds very similar to the theme of the 60's sitcom 'The Adam's Family', and you almost start clicking to the beat *click click * , until you realise it is far from the TV show. It could be inferred there a strange people in the world that say unkind things, and that this song was designed to encourage society, to say the second thing they think of. The song has a twist at the end, to bring irony to the entire piece of auditory art. Sadly, there are no spoilers here and you have to source the track yourself!
Creating the right setting plays an important part of an average film. If you need to orientate an audience into a movie, the opening music is a good way of doing exactly that. Hons has made multiple short and long films over the years and uses a clever hit 'It's just a stupid movie' to capture the essence of this. The opening set has a calming influence and allows listeners to visualise a scene of their choice. If this is too confronting, you wouldn't think twice about attacking the craft of Cameron Hons. He jumps into your thought process with the line- "If you don't like it, then why don't you go?".
There is the potential for many tracks to be used in animations and movies in the future, and Hons was asked if he asks for royalty fees for the use of his music.
"If people want to use one of my tracks or a song they contact me just for permission and I say yes. I don't like charging people to use my material because I get to gain more of an audience with people who can't normally afford to pay," he said.
"The latest thing (for inclusion in films) is I've got my music in a friend's upcoming animation project; they asked me for the songs first and I was happy to send them," said Cameron.
Cameron Hons is constantly creating the hits that form part of our musical memories. Using clever lyrics, music and emotions he is able to capture the (dys)functional aspects of society and culture. A musical artistic prophet who is bound to bring in the profits – until next time!
You can purchase the new CD or digital Album for $15.00 (AUD) by clicking on the link: https://cameronhons.bandcamp.com/album/rediscovered-classics-re-recorded.
Check out other Albums by Cameron Hons. This one was released on September 15 2018 at the same time!!