'Almost Perfect' album tipped to be a hit
Bands have changed the way they promote and sell music in 2018. There is less focus on radio airplay and 80's-style touring across regions. Today, bands place more emphasis on social media marketing and clever lyrics to attract new audiences and retain current fans. Musician Cameron Hons has cracked the code to selling his music in a new era of music production and distribution. Darren McErlain reports.
Musicians have to think outside the square in the modern era, and create lyrics that reflect the world issues that have confronted their audience. These can often involve topics ranging from mental health to noise pollution. The music and lyrics by Cameron Hons are more than perfect, in the newly released Album: 'Almost Perfect'.
Let's set the scene of an average suburban practice session. Imagine if you're in a band and jamming in the garage playing a few flawless sets. The neighbours can hear the lyrics and music several streets away. The only way to get them on your side about the tunes, is to write them a song to thank them for listening.
Hons has created a track called 'My Neighbours are my biggest fans' and takes a 'tongue-in-cheek' approach to show his appreciation. Thinking outside the square, Hons has won a few neighbourly points by acknowledging the locals. Great thinking 99…and all the other house numbers too!
Cameron Hons said he never really intended to be a singles or chart topper artist, but simply makes music for enjoyment.
"I have made hits which fans consider to be my best tracks, but they never got any air time or commercial play. People from USA, Canada, Italy and parts of Europe have found me and are now big fans of mine," said Mr Hons.
"My songs have been discovered by friends or fans from around the world, and I still keep in touch with them on the Internet. I don't normally like playing music (on stage) for the money, but I like playing music for the music," he said.
The song 'Late one night' starts with spooky chords that is enough to create suspense, if anyone was walking passed. With special effects and amazing instrumentals, it launches into a ballad about 'glowing eyes' that creates a narrative about the unknown. If the Dr Who genre from the 70s was still in production, this track would have snapped up for an episode or two. It is a clever creation by Hons, and he deserves to be praised for his music style. It raises awareness for the spirit of otherness – whatever that could be.
Cameron Hons has a unique way of creating a song, by generating the tune first, writing the lyrics second and then he allows the music to follow afterwards.
"I'm good at coming up with earworms as I never read music so I don't do notes. Studios often work with drums recorded first and then everything done backwards with vocals last," he said.
One iconic track 'Get over it' features Peter Northcote. It employs some strong language that helps us tap into the unfortunate humans emotions of life: frustration. The unique vocal sound of Hons captures the sentiment of any general gripe with the world, and allows the audience to seek refuge in the music, as a form of therapy or escapism.
If you purchase this track, it will certainly be cheaper than your average consultation with a psychologist. Remember to lie down on a couch when you hear the song and pretend you're in a counselling session. You will certainly get value for your dollar.
The dynamics within groups on tour or during rehearsals can make or break a band, with many incidents of friendships breaking down.
Hons said bands can break up for a variety of reasons, often due to personal egos, disagreements, money issues or when individuals want the group to take a different direction.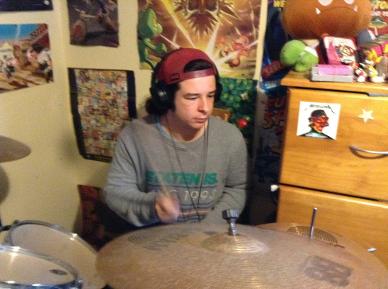 Tommy Adams in the studio on drums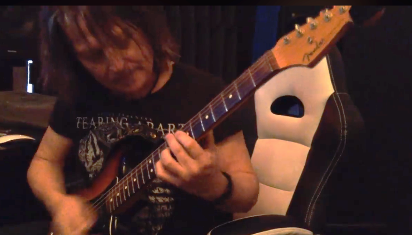 Peter Northcote lays down some guitar tracks for the new album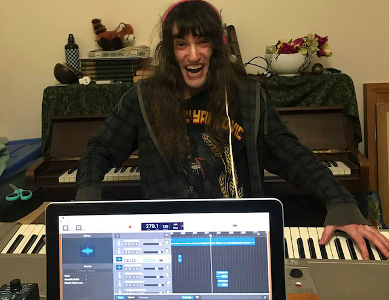 Musician Cameron Hons plays keys and other instruments with music software editing programmeGarage Band
"Bands I like have stayed together for a really long time, like Deep Purple. They are celebrating 50 years this year and they were going to think about retiring after the current tour, but now it seems they don't want to," he said.
Live stage shows and touring has become time consuming for some musical groups. It has proved to be an ineffective way to sell albums, and a poor way to raise an awareness for band brands.
Hons said he has never performed in a Live stage show, but has played in several popular Live stream concerts online in 2017.
"I often get asked when will I consider playing live and I say I never know, because I think I sound better with a backing band. If I was to play live I would have to find a band (for support)," he said.
Cameron Hons has been producing and distributing his own music for the last 15 years, and his music on BandCamp.com enjoys notoriety around the world.
"It's great because it works on their phone and they can choose what to buy and they can listen anywhere. That doesn't mean I'll stop making CDs. I will always keep making CDs because I love making something physical. I make them and people buy them!," said a very determined Cameron Hons.
Meanwhile, while the Jacksons were blaming it on 'The boogie' in the 70's, Hons takes an alternative approach by singing praise for the Boogie in the song, The Boogie Woogie Breakdown. The song has a unique sound that would have been perfect for the ABC Song Book back in the 80's. If everyone is singing from the same page about general disappointment in life, how can anything go wrong? A reflection on life can only get better! I'm sure the Jacksons would agree with this part of the Hons genre of music. Remember it's as easy "ABC" – apparently.
"I've also worked with Peter Northcote recording with me on the album and Tommy Adams as a special guest on a Drum track. Peter used the Stevie Ray Vaughaun guitar on 'Get Over It; a nice connection to the 80s Indeed!," he said.
In a significant connection from text-to-text, Hons sings a phrase that rekindles many memories from the 80's. In 'All that money' he says "please buy this CD" which brings back flashbacks to the Young Ones. When Rik Mayall from the Young Ones tried to sell Cliff Richard's version of Living Doll, he said "If you don't buy this record then you'll all utter utter utter". However, Hons certainly takes a more positive approach. He uses random comedy in his observations of society and culture, at it's best and worst.
There are plenty of CD's available for your music archive, and plenty of MP3's to download to your playlist. If you could pop this album in your collection, that would be 'Almost Perfect'. Hons has great taste in music. Do yourself a fLavour.
The Album was produced by Cameron's friend Tommy Adams from Thilestone Records.
The digital download of the Album can be purchased from this link. https://cameronhons.bandcamp.com/album/almost-perfect The CD is available from cameronhons.bandcamp.com/merch
Click on the buttons below to purchase the digital Album or physical CD.