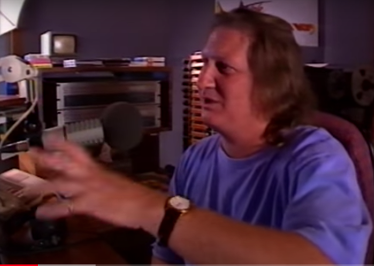 Doug Mulray at the Triple M Sydney studios in the 1980s.
Radio Broadcaster Darren McErlain reflects on the impact Doug Mulray had on radio for listeners in the 1980s.
FM Radio was very different back in the 1980s. If you only had an AM clock radio, you had to buy an FM radio if you wanted to wake up to it. Especially if you wanted to listen to radio icons like the late great, Doug Mulray (1951-2023).
I went to an all boys Catholic High school in Sydney`s west in the 80s. Every morning when I arrived at school, I was often asked, "did you hear what the Reverend Doctor Doug said this morning? " I enjoyed the `retell` so much, that I wanted to start hearing it for myself.
Radio marketing was literally old school back then, and success was sometimes about word-of-mouth. Doug Mulray was a smooth operator and a creative genius, and just knew how to get people talking. It was a free ad; It was an advertising gift, that kept giving!
In 1989, I got rid of my AM Tempest radio with a faulty digit. I always awoke at 6:0F because an LED had blown. Life was tough back then! I purchased a Sanyo clock radio with AM/FM and a little aerial wire that boosted the signal if you lived in the western suburbs. There was no Tunein App. back then! I still have it and use it, but the radio component broke 30 years ago along with the snooze button. I haven`t snoozed for decades!
On reflection, whenever I looked at the clock radio for the last 30 years, it was often a reminder of Doug Mulray and the inspiration he gave me each morning. I decided to go into radio sketch comedy in 1991. The Radical Radio Racket was not up to the same standards as Mr Mulray, but it was a fun start. Links were not shared back then. It was called `listen to the audio cassette tape, and pass it on`. In 2023, I do a great deal of radio and I think the reasons for my announcing go back to the broadcasters that were one of a kind, who gave the edge to do what they were doing. Doug Mulray was one of them.
The memories will live on. Doug Mulray was an audio sculptor who could manipulate his vocal chords to tell us what he was thinking. His energetic pace was vitalised when the microphone was on, and he knew how to rest it when it was off. Doug Mulray was a success in radio because he was connected with his audience and knew what their struggles were. He knew how to make them laugh, he knew how to make their mornings better, he knew how to make the medium work. There are many broadcasters and podcasters today who owe that inspiration to Doug Mulray.
Thank you Doug Mulray for your commitment and for using humour to make a difference for so many Sydney-siders. Your memories will live on in us, and for generations to come on YouTube! Thank you Doug Mulray. May you Rest in Peace, kind sir.