Guitar power leaves fans fretting for more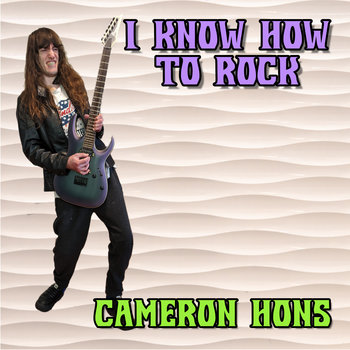 They say a bottle of wine improves with age, and the online catalogue by Cameron Hons just shows that. `I know how to rock` is not just a companion, but a new institution of what Australian music should sound like. Darren McErlain from Newy 87.8FM reviews yet another chapter in the Cameron Hons musical of life.
`I know how to rock` was released on June 9 and is selling like hot cakes, and Cameron has all the secret ingredients and has been doing all the cooking! Your very own personalised concert awaits you.
As you sit in your armchair, you hold a hot cup of sponsored beverage. It slowly removes the icey sensation from your fingertips as you ponder life. Suddenly, you listen to the electric guitar from `I know how to Rock`. As soon as the iconic Cameron Hons vocals sizzles into your headphones, you realise you are in Rock and Roll Heaven. Only this album can give you the true concert experience. This feeling was certainly intended on the Album.
"I always hate technology taking over the recording process. That's why I use portable recorders and only 1 or 2 microphones for everything. I enjoy capturing a raw and fresh sound on my albums," said Cameron.
The quality of the songs from a production perspective and a lyricist point of views shows how hard Hons has worked on each and every album. The best part about the Album is that it is sometimes planned, and sometimes made up on the spot.
" There's a lot of improvisation on this record as you would have noticed. That was often inspired by my favourite Deep Purple live performances where they'd break out into epic solos and mid section jams that would often last 15-20 minutes. I don't work with clicks. I don't like having a bazillion computers around. I hate overproduction. Some people think I'm mad. I just love capturing what I hear, " joked Cameron.
Australian music has just been landscaped into an all new urban level. Hosin` the Driveway would make poet Henry Lawson roll in his grave in amazement. This song brings the suburban experience into the Hills-Hoist of Hons music. The melody is superb and the lyrics border of the true blue sentimental Australian experience.
Each Album is better than the last one, and this track left me shuffling my feet like a 1960s church dance, and a whole lot more. Cameron admitted that the instrumental versions are probably the preferred option.
Many people have asked Cameron why he is so successful, but phrases from `Evil Eye` says ` I don`t know why` and this explains Cameron`s modesty and the drive to get to the top of the pops. The finale` and drum set at the end in surround-sound is guaranteed to bring you multiplying chills that will boost any dance-floor!
In the meantime, `Dangerously stupid` featuring Peter Northcote will get you journeying on steam train of zany music that will keep your hot coals chugging for more. The musical score sounds very similar to `Taking Care of Business` bringing that feeling of nostalgia through your speakers, and tantalising your ear-buds! This song is sure to be picked up by the singing schools in any region, with full copyright profits going to the Hons Empire of friendly musical chimes.
One very effective strategy in the song is the balance of sound going from left to right, bringing a new dimension to the old stereo songs. If 2SM was still rocking with the 80s, this track would be the station anthem…. without a doubt.
" I've been getting better with my EQ and mixing skills over time. A while ago I used to not know or bother how to do that. But when some of my friends complained, 'Your songs are good but so and so is too loud or drowned out' I started to take notice of this more and play around with volume levels, and EQs. I only started noticing this when I was remastering my older albums. I'm not really a snob when it comes to quality but I do think that it improves the performance of the song a little, " he said.
`You Never Talked to me` brings out the Calypso Cabaret singing talents of Cameron Hons. It is only a matter of time before your local bow-tie restaurant, starts hitting Hons for live shows as people tackle oysters and a medium rare steak with a touch of garnish. Dinner and a show with this song can only bring pure class to your average hit parade. If Cameron is not free, buy the track and pop it on a loop in your local `snap up grill`. Number 7, your hot hit and favourite is ready!
The echo effect on `Wasting my Time` builds spiritual dimensions, inspires emotions, brings on positive psychosis and makes the reflection at the end of a day feeling just tickety-boo. Media Producers with a visual arts focus could use this track to send any audience into a journey of musical tripping. In all honesty, it is a REALLY good song.
`Did you get better or is it just me` sounds like a combination of Gregorian chant meets David Bowie with a touch of Deep Forest. Cameron Hons has an incredible imagination and uses a repertoire of natural knowledge in music to build a track that is bound to hit the top 40 charts. Surprisingly, Cameron has only heard of David Bowie, and not familiar with Deep Forest or Gregorian Chant so his replication of these sounds is incredible. Whilst music today is very digitised Hons uses a combination of instruments to create a worldly experience that only true fans can appreciate. If you don`t do yourself a favour, buy the CD anyway!
" I have never heard any of those artists. I don't even listen to David Bowie...not that I don't like him...I know who he is. But I've never owned any of his albums. The 'glam' scene is kind of not me. The closest of me knowing about David Bowie was that he was on an old Spongebob episode back in 2007 as the King of Atlantis. I did think he was cool because like me, he was a big Spongebob fan too! , " he said.
Each year, true fans are never disappointed with what Cameron Hons comes up with. Regardless of how many times you have revolved around the sun, there is always an Album you haven`t heard all the way through. Grab your physical or digital copy, before you miss out! `I Know How To Rock` was released on June 9 and can be purchased on the website. I`ve hot my copy, where`s yours? https://cameronhons.bandcamp.com/album/i-know-how-to-rock