A really good listen, thanks to 'Really Good Music'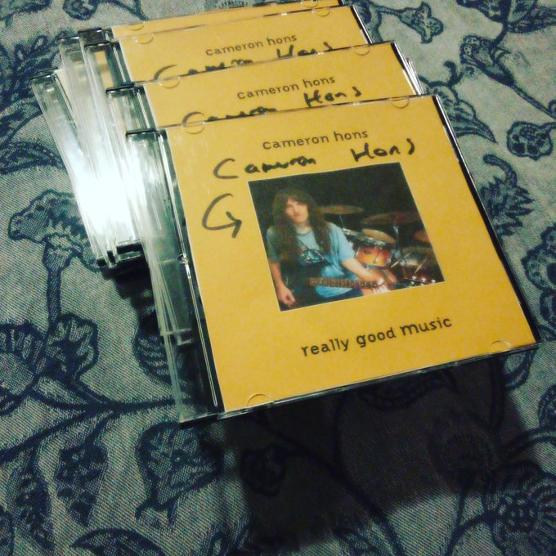 Digital downloads are no longer the way of the future. They are happening now, and many musicians like Cameron Hons are taking advantage of the online wave. After releasing many albums over the years, 'Really Good Music' has hit the mark as one of the best. Darren McErlain reviews the next instalment from the Hons Empire of music.
'One of those Days' (featuring Hupa65) will bring it all back if you grew up in the early 80s. If you ever woke up at 2:00am in the middle of 'Rage' on ABC-TV back in 1987, this is the type of song you would have woken up to. Hons captures the emotion when everything goes wrong and it is just a "bad day at the office".
"My friend Maurizio who was initially the drummer for 'One Of Those Days' suggested that we could re-record the song, which would take him four more days to do it. I didn't want to delay the album but still wanted to use him," said Cameron.
'I feel like Rockin tonight' (featuring Peter Northcote) will entice you into a forest of nostalgia, thanks to the very interesting vocals. If you grew up in the 80s listening to the ABC 'Sing' book, this track will bring it all back to you. You can almost imagine the bouncing ball jumping on the musical notes. "Let me tell you something I'm goin' to do" brings hope to the listeners. The background interjections sounds like Vivian from the 'Young Ones' who rebelliously refused to go to bed. Only clever artists can capture these sentiments, and it is the Cameron catchment of sayings that makes this happen for many!
'50% Chance of Lame' (featuring Tom Adamson) will force the ARIA's to introduce a new segment or genre. Most popular impression of a previous artist would see Cameron Hons win gold. The sound is very Hons-like but it almost sounds like a David Bowie voice-a-like has bunged on a casual Aussie accent to bring passionate emotions to the listeners. One send-up band from the 70s, 'the Hee Bee Gee Bees' did some replicas of the Bee Gees and Hons does an outstanding job bringing this time period back to life. Unintentionally….we think.
The instrumentals on this album are a real plus for not only for this Album but, for the music industry itself. It gives many lyricists the opportunity to add their own vocals, and paying Cameron a price for the opportunity. This album has potential and is one of the best released from the Hons Empire record label.
'Sometimes' is another classic from the cupboard of 'clever clogs' music. The Acoustic guitar introduction has the jaws of the audience dropping to the floor. Music can store up many emotions. This track feels like it has been inspired by 'Play School' looking through the windows, combined with a yellow pages commercial with a dog stealing sausages from the butcher. These twos visual texts are the juxtaposition that form an amazing illusion. Merged into the one song this tickles the brain of entertainment, thanks to the power of the Hons Institute of music. Very clever indeed!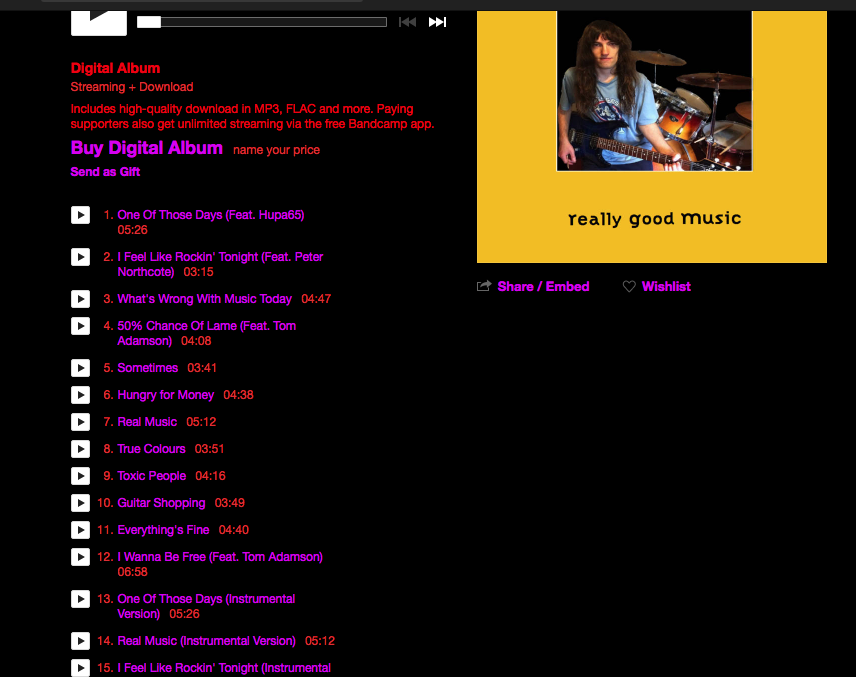 'Hungry for money' will make you thirst for music. Hons has an amazing ability to bring music to the foreground in an alternative way. The introduction accidentally or deliberately sounds like the end of a song. A clever rendition by Hons to capture the alternative way of "viewing" music. He sings: "You're hungry for money, and don't think that's funny." This was a classic line that should be inscribed on a comical tombstone that symbolises opportunistic people, keen to ram-raid others for the sake of their own popularity. Each album from the Hons empire makes a statement, and this is just one of many by Professor 'Musical' Hons.
'Real Music' has a guitar riff with a potential score that would make Mark Knophler envious. The talent of Cameron comes through this track in more ways that one. Alternatively, 'Guitar Shopping' This songs deserves to win an ARIA for the catchphrase: 'Yeah Nah'. The fact the track has been released on YouTube means that it has achieved global coverage on devices around the world, before the album was even released on Bandcamp. Songs like this make artist Cameron Hons – the guitarist to watch. A big future for his team. 'Yeah Nah" bumper stickers is just a money making adventure just around the corner, waiting to happen.
Cameron said he get the lyrics to the songs from anywhere he can find. "Mostly from true life experiences or random phrases that I sing to myself. I come up with the tune on the spot. If I think the tune sounds good or annoying, it gets approved and is used on the album," he said.
Music lyrics will always be considered a form of poetry without the music, and has a variety of sources that bring inspiration. "I could be cheeky and say my grandmother, Hana Gerzanicová who is a famous Czech author and poet, but it's actually Ian Gillan who is my favourite song writer; I have liked his music and Deep Purple since I was a kid so I guess that counts," he said.
Hons said he hopes more people within the local music industry discover Fiver rand said it was found to be very beneficial.
"If you have made a great song and can't get that professional studio sound on a tight budget, people on Fiverr can help you out and do something like a drum recording or something, and it's always fun working with other people," he said.
Click on the link and name your price at bandcamp.com and order your copy today. Support the Australian music industry and keep feeding the Hons label. A brand that has many more albums left to come. 'Really Good Music' is a great rendition of really, good, music.
James T Kaiser (who you might know from the Pirate Party The Band!)