In sickness and in health: Hons vows to be unstoppable
Cameron Hons battled bronchitis and found the energy to create another album of songs. This incredible musician struggled to breathe at times, yet his soundscape of work took everyone`s breath away once again. Cameron has made a full recovery, but the experience got him thinking, and he passed these thoughts on to everyone else through music. Darren McErlain from Newy 87.8FM in Newcastle reviews the next instalment from the musical lungs of a lyrical genius.
Sickness often slows the mind, body and soul down, but musician Cameron Hons found the drive to create and produce more songs to build yet another album. He is an experienced musician who can control his ego, and still enjoy performing for the sake of music, and not for money. The famous Cameron Hons is psychologically grounded and he doesn`t let his talent forget about the people who are important to him. A temporary illness did not get in the way of his gifts or his spiritual view on humanity.
"I had a horrible spate of bronchitis for about two weeks and it started to get better, then I got bad again. I suddenly had a bunch of ideas for a new album and new songs started to come in. During the recording I was very sick, and you can tell in some of the songs, but I still think that the performances are great," said a very jubilant Hons.
The track with the same name as the album `Shut up and listen` starts with a powerful rhythm guitar score that makes it the biggest hit since `My Sharona.`The big finale is enough to put any opera singer to shame, and demonstrated lung capacity bigger than a goon bag! Hons refused to let bronchitis put a dampener on his creativity and opened his album with more than just a snapshot of musical intelligence.
This musical intelligence continues throughout the album with 'Nothing on the internet matters.` It focuses on the issues of keyboard warriors and how they can make us feel. In an era where social media is exploding and imploding at the same time, Hons touches on the vicious cycle of free speech for some, and how responses in self-defence can be targeted by a brigade of self-opinionated bigots. The victims can receive bans or consequences for something they say, yet the perpetrators get off scott-free. Hons is a true prophet of the day, and says it like it is, and with good reason too.
Hons has confessed to getting many ideas when he is out-and-about, and songs can be attributed to his observations on nature walks, or visions he might see on television.
"I often come up with a lot of ideas for songs when I'm going for walks, observing things that I see, or doing work in our reserve. Sometimes things on TV annoys me and think I should make a song about it. If a person does something weird or funny, I think to myself, I should make a song about that," said an excited Hons.
`Good fences make good neighbours` has an interesting concept overflowing into the song. Whilst the lyrics grasp hold of the restorative justice needed to exist in a neighbourhood, the algebraic flow of the music will get you thinking. Country & Western singers could sing this song and reinvent the boundary lines of Australian music culture.
This song resonates with a pattern associated with the type of music you might hear when Play School would look through the arched window. It creates a 4/4 signature that sounds like a character is about to break into song to teach the toddlers a lesson about turn-taking on Sesame Street. If you don`t hear it the first time, send it through again and you will notice how it plays into your conscience to do the right thing. At the risk of sounding like a radio jingle, artists should play "better music like this, and more of it!" It`s the right thing to do.
'Negative for COVID but positive for excellent` was an hilarious way of showing that some people don`t give a metaphoric RATs. Rapid Antigen Testing has gone full circle with no tests available, to too many around! Hons` positive approach to not having coronavirus, and being disadvantaged by the sickness played right into the hands of those too sick to work. Hons picked up a pen, or perhaps a Macbook with a faulty `l` key, created yet another album, just for his strong fan-base.
"I like to write song lyrics with pure concentration, so no TV or distracting things on in the background while I'm writing them. I usually write lyrics on my phone or computer to save the use of paper," he said.
In the meantime, 'Nothing in the news today` is a common feeling sick people get. When viewers or listeners are stuck at home and forced to monitor news services in Australia, they realise how repetitive the news cycle can be. The lyrics contain a poetic refrain of "I don`t care" and it is symbolic of how an audience may feel. The updates and bulletins are devised for people to see three, before it goes into repeats. Public relations people take a break and give media releases a rest at the weekend, forcing the news agenda to slow down and pick up information from overseas, stock footage and hope for some breaking news along the way. Something has to break the repetition on a Monday morning, and the media are yet to do this.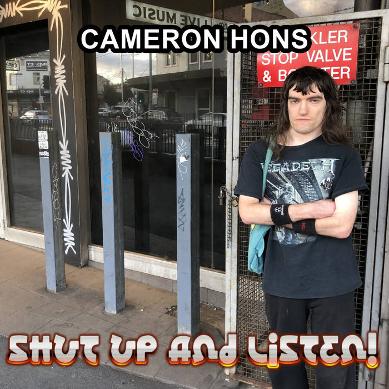 Cameron Hons has a very strong radar when it comes to working out which songs should go on an album, which ones will be shelved and which tracks will be completely canned.
" I've got a huge archive of previously unreleased songs over the years that hadn't been on any albums. The first big collection of lost tracks was released back in 2012 on the 'Too Good To Be True 2CD," he said.
"These were mostly recorded around 2005 - 2011. I've had a bunch of other previously unreleased songs on CDs, such as 2020's 'Rarities" 2022's' and `Lost Tracks - B-Sides & Rarities' recently from 2022 - 2023 'From The Vaults Volumes 1 & 2'," he said.
A close comparison of the new album `Shut up and Listen` with all the others on bandcamp.com shows some interesting self-reflections that stand out as different.
"I felt like this album has a rather raw energy on it that makes it very unique. Despite the fact I was sick during making it which doesn't normally happen. The songs sound harder and the lyrical content is also quite deeper for some reason than on most of the other albums. I wanted to record a CD like this just to distract myself from actually being sick, because I can't remember the last time I had been sick before COVID times. I think the extra effort gave the album a bit more of a raw garage, punk sound," he said.
The telling moment in the song 'Nothing in the news today` is when Hons sings about, "I don`t care if some random guy does something silly." This is the dividing line between the mass media and social media and Cameron Hons has used his musical hammer to hit the nail on the head. Another clever song that shows he is going places as a musical influencer, in a non-TikTok way!
"I often get bored on the internet and browse around on news sites. Sometimes just to see if anything is happening. When people are talking about things like a person won the lottery or a dog did something, I start to think it's a slow news day. The music journalist websites are worse, for example because they talk about gossip a lot and clickbait. I start to switch off when I read an artist fell over on stage," he said.
Bronchitis has the potential to put people in hospital, but Cameron simply conquered his illness with plenty of water and pharmaceutical medicines for coughs and chest pains only. Amongst his many albums listed on bandcamp.com, `Shut up and listen` is a collection of songs that were produced under challenging circumstances. It is time for Australia to dig deep and pay $7.00 for his time, buy the album and say thank you for your art, craft, music, and dramatised lyrics. Say thank you to an artist who encourages us to get up and dance.
If Cameron Hons became a Member of Parliament, it won`t be long before he is granted the duel portfolio of New South Wales Minister for Health and the Creative Arts. A well-deserved appointment that musicians would say is "fully sick". Yes, Cameron Hons is unstoppable.
You can purchase the new album by Cameron Hons `Shut up and listen` by visiting the website: https://cameronhons.bandcamp.com/album/shut-up-and-listen. A simple $7.00 will change the way you listen to music!