Pirate Paranoia is the talk of the town - another album sails the seas
The Official 'Pirate Paranoia' has been released on August 26 and fans have been treated with another glorious album! Only Cameron Hons and James T Kaiser can produce a pirate themed album that has all rivals walking the plank, before they could think of half the ideas. Darren McErlain from Classic Hits FM Drive Newcastle 87.8FM reviews the latest album that is guaranteed to reshuffle your playlist.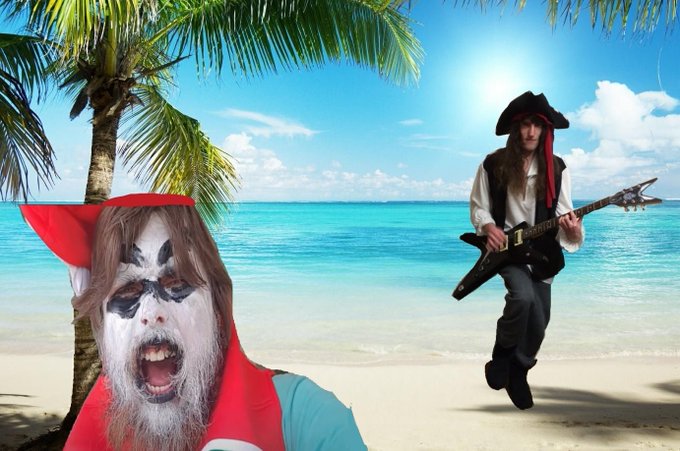 Many of us have walked through the underground tunnel at Central station in Sydney to hear the local busker echoing under the platforms. We often wonder if the singer has had a history of albums to their name. When you hear the 'Pirate Party theme', the echo of the pirate and the strumming brings it all back. When you listen to the phrase "Here we am", you immediately realise these digital buskers Sam and Cam have more talent than one. It certainly sets the pace for a short film on the seas! Or perhaps a great Saturday night on deck with a non-alcoholic rum essence from Woolies. A classic Pirate Party LP introduction.
Cameron Hons said the Pirate concept is based on many adventures on the game 'Sea of Thieves'.
"We thought one day wouldn't it be funny if we started a band that was based on all of these adventures and silly events that happen to us in the game. We are still based on 'Sea of Thieves' and are also just regular pirates, but we had so much fun making albums that we continued," said Cameron.
Sam said the pirate series started as an inside joke.
"Cameron wouldn't stop bothering me to play Sea of thieves. I ended up getting it via Game Pass and we decided to record a lets play on it. Cameron showed me an old song of his called, Pirate Party. I thought it would be funny to call our little gameplay series that. It soon morphed into a band. Not just any band though, but a band where the songs were about all the crazy things that happened to us during the game," said Sam.
'Hole in the Ground' has a great blast from the past sound! If Iron Maiden wrote a piece of music for the Lego Island PC game from 2002, this would have been ideal. There are many constructions in Sydney that have 'downed tools' due to the Covid-19 pandemic. Some underground carpark constructions have completely filled with water, big enough to sail a pirate ship. This track strongly reflects the situation around the world, and shows that James and Cameron as a band are many nautical miles above the other bands. They have certainly created a few ballads that will be remembered in 2030 AD down the track. No pun intended!
Cameron said that one thing that 'Sea of Thieves' does well is that it has its own unique style of music from orchestral to silly sea shanties that annoy everybody.
"It needs to be fun and light hearted although I don't mind having a big and epic soundtrack every now and then,", he said.
The opening vocals of 'Pirate Pinata' are fantastic! It sounds like a Disney Pixar voice from a kid's movie meets a frustrated drill sergeant. It makes you scared and laugh at the same time. You will find plenty of these amongst typical Pirate Party songs. You feel you need to run for your life, while you have a good laugh at the same time. You know your ultimate end would be from breathless laughing, rather than absconding for dear life. One of the best album characterisations in the history of the Hons label in decades!
If you cast your ears back to the 1976, you may remember the episode of 'Sesame Street' where the street kids used a steel canister to make drum. The tinny rings of percussion assembled the neighbours to enjoy the best of street music and dancing.
'Pirate Holiday' brings the emotion back from this episode. The clapping to the phrase 'barbecue boat' and the unfortunate ending of a parrot create the perfect narration to musical success. The harmonising vocals and the ending made the track very enjoyable.
Sam said that television has got stale over the past decade and has moved people to online games.
"There are no good cartoons on in the morning, or good anime at night. It is just as easy to go on to the PC to watch what you want via streaming," he said.
Cameron Hons has picked the right opportunity to release albums while some towns are in lockdown.
"I think because it gives people more things to do, and helps them connect with their friends in a way where people aren't able to go and visit them in real life. If you're not allowed to go out and see friends, you can host online parties in video games and hang out with them that way instead. That's one reason why games like 'Animal Crossing' are doing really well right now," Cameron said.
To lay it on you straight, 'Superfishious' will have you jiving down the Pitt Street Mall of Sydney with your cool cat hat and bell-bottoms swaying in the wind. If you have ever wanted to be a 70s smooth walker and talker, pop this track into your Walkman and go for a stroll down to your local. Play it in YOUR store and you will have your joint jumpin' my main man. If Stevie Wonder heard this, he would probably re-record a new version! It is that good!
The dance tracks certainly get everyone thinking about new movies and how the music can fit with a new film. Sam has had a great idea for a film called 'Pirate Party: The Movie'
"It would be starring Hugh Jackman as me and Yahoo Serious as Cameron: A film about two aussie pirates conquering record shops and arcades with the power of what ever genre that we do for when it comes to music. It'd be the best Australian pirate musical since The Pirate Movie from 1982," said Sam.
Cameron has produced many albums as a musician but said that are some things frustrate him carrying out his craft, like working with difficult people and mutiny on his own ship at times.
"I've had unfortunate situations in the past where people either fail to show up to recording sessions, abandon projects half way through, or refuse to do a track because of one silly reason or another. The last time that happened, I contacted a friend on Fiverr that helped out finish an album I made previously and saved the day and also had fun with it. Sometimes bad experiences can lead to good ones, especially if you can find the right places or people," said Cameron.
If there was ever a Shrek 8, 'The Forbidden word' is the classic track for when Fiona has gone on a cruise without Shrek. Left behind to cook his Dragon wings or dinosaur rump, the track brings an amazing emotion. The harmonising instrumentals at the start are a beautiful way to symbolise the end of a busy day. Perhaps you can watch the sunrise aboard your general pirate ship or suburban bus route, until "that guy" gets on. If you listen to the music, you will know what this reference means. No spoilers!
As the sun sets on another album, Cameron Hons and his team are too busy in the kitchen cooking another album with all the right ingredients. Don't make yourself walk to plank, grab your digital copy and be part of history! Click on the linkhere: https://cameronhons.bandcamp.com/album/pirate-paranoia-2