Unmasking the real Cameron - just what the doctor ordered
As we enter a new decade, Cameron Hons has released a new album Re-recorded Right Now in the early days of 2021. Drive presenter Darren McErlain from Newy 87.8FM in Newcastle kept a social distance of 1.5 metres and sat with Cameron in a covid-safe way to talk online about what makes him tick.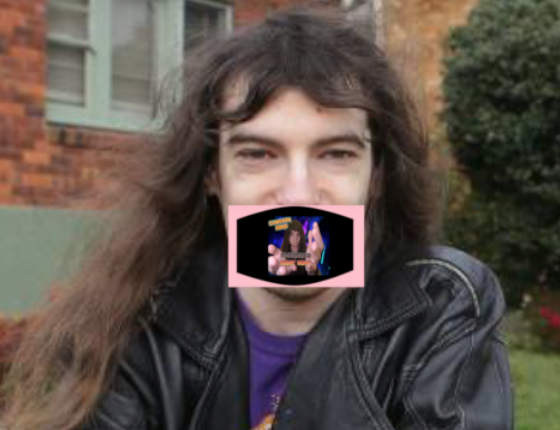 The newly released Re-recorded Right Now album has been launched in New South Wales, as another wave of covid hits the Greater Sydney region. The tracks are welcome; the music is timely. The fact his music is widely available online means that the world can be entertained yet again.
A show for children in the 1970s and 1980s in Sydney used to place a strong emphasis on music to get young people to get up and dance. Romper Room created the catchphrase "Ready please Mr. Music.." to get us all ready to enjoy the musical bars to "come with us and gallop." Cameron Hons has been the "Mr Music" for a new generation and since the early 2000s, he has been getting us all to gallop!
The year of 2020 was one of those years and a replay of 'One of those Days' has made a timely comeback. The repetition fits in well with the repetitive nature of lockdowns, quarantine and the pendulum of the number of cases. You can hear the frustration in the song towards the end with all the adjectives and synonyms used to describe a timeframe that has not gone in our favour!
Unfortunately many of Cameron's favourite bands haven't produced re-recorded albums, but he does have an impressive knowledge of bands that have mirrored this pathway.
"Harem Scarem's Mood Swings 2 was one of them from 2014 and was a re-recording of that full album. There is also a recent Graham Bonnet Band album I have where they re-recorded a lot of his old solo, Rainbow Alcatraz music on a bonus disc, " he said.
Cameron Hons is an excellent marketing strategist when it comes to bringing back some of his old successful songs. Re-recording some of his previous tracks is a great way of gaining attention from a new generation. Many Australian legends like John Farnham have brought back classic tracks and have been criticised for making several comebacks and farewell tours. Cameron confirmed many bands like Status Quo are motivated by this for money reasons.
"Status Quo did this a few years ago when I went to see them live last time here in Australia but they've since continued on. I still have a T- Shirt that says 'Last Night Of The Electrics tour,'" he said.
Cameron has also displayed his creative skills by producing several films over the years. Getting noticed in the film and music industry is something that demands a great deal of knowledge. To get original songs considered for major movies or minor podcast playlists, Cameron has a specific process that he follows.
"Normally if it's for my films (like Cameron's Playhouse) I have a look at what the story is and then make songs based, on or around the story or characters for that film. For Podcasts I've done music for The Since Spacies Show, they said to keep the music brief like around a minute or so people don't get too bored."
The fact Cameron brought back 'You need to calm down' fits in well with the replay of toilet paper shortages yet again, and the panic buying that made a comeback in late December 2020. One thing that Coles Radio and Woolworths instore radio need to do is to play this song in selected shopping aisles, just so that people take a leaf out of the Cameron Hons book and literally calm down.
The love of music around the world is used to raise funds for charities or provide humanitarian support during a natural disaster. Cameron Hons has extended a helping hand to many funds to support others in the world.
"I like charities that have environmental benefits. We donate to people such as the Community Cat Carers and I've also supported The World Owl Trust, which are based in the United Kingdom. "
The lyrics of music are often generated from the heart and the motivation is often inspired from religious beliefs and political opinions. Cameron confirmed these do play a part in his original creations.
"One of my favourite bands are Megadeath and they are a very politically charged metal band. I get a lot of my heavier side from inspirations like that, and also what I see on television. "
All successful artists make progress in the world if they can be their biggest critic of their own work. Cameron Hons said there are limitations that he has with his albums.
"I am limited with my recording of drums and hopefully in 2021 I can save up for some new recording equipment! I have my eye on making my drum recordings sound better."
While Cameron was remastering his back-catalogue last year, there were some songs he was keen to remove. "I just wanted to remove them because my opinion changed over time or I thought some songs didn't sound that good or funny enough as they once did."
The pandemic has brought on many feelings from the global population about wanting to turn off the world or, maybe just the television. Cameron sings "I want to do it in one way or another" shows there must be a way of turning away from the heated discussions that have evolved in the last 12 months and that is turn it all off, because it is ironically a big turn-off in itself.
In the realm of inspiration, Cameron Hons does have favourite musical artists and he wishes they would make a comeback with re-recorded albums just like him!
"My number one favourite singer of all time, even when I was a kid is Ian Gillan. I would love him to do a new solo album one day. His last one was released back in 2009! "
Ian Gillan is an English singer and songwriter and takes pride in being the lead singer and lyricist for the rock band Deep Purple. Cameron Hons has produced a tribute album for the band and can also be found on his catalogue website: cameronhonsbandcamp.com
The current covid-19 pandemic has placed all industries on edge, but Cameron has closely observed the music industry and has some hopes and dreams for his colleagues in 2021.
"I hope concerts will return, even if they are require a limited attendance, now that masks have been made mandatory for venues. I last saw Whitesnake and The Scorpions back in February 2020 just before coronavirus hit Sydney and we were fine. I think venues can be managed well if they do the right thing."
When MTV was launched in the United States of America, many bands discovered the use of the music video to sell a song and albums. Music videos have played the indirect role of being a free commercial on shows like Rage on ABC-TV. Sadly, it has been decades since Alison Drower and Richard Wilkins hosted the Australian version of MTV in Australia. We have often wondered if Channel 9 will bring the show back, and will get them to stand next to the 1960s jukebox!
"Music Videos for me are a huge rarity. I've never been bothered to release any, but recently I found a bunch of old unreleased music videos on a hard-drive that I plan to put on a big special BLURAY collection for 2021. It will have Remastered audio from the remastered albums I did last year, so my listeners should expect this exciting new release from me in the first half of 2021! "
One of the big winners in this album, Re-recorded Right Now! (Deluxe Edition), for consumers is the creative licence that Cameron lends to the songs. Half of the album contains the instrumental versions of his award winning hits. Not only can people reflect on the lyrics that have been removed, but the tracks create a thought process that allows people to do their own reflections.
More importantly, the decades of music that Cameron has created can be used for podcasts, themes, short films, long films and anything that will bring a huge fat royalty cheque for the Hons media empire! It is up to us as responsible and respectful global citizens to patronie Australian music, purchase the latest renditions of hits from Cameron and promote the creativity that we are privileged to hear. Another mighty fine album, by an ever so popular musician from Sydney.
Purchase the new album Re-recorded Right Now! (Deluxe Edition) from the Cameronhons.bandcamp.com website. You will feel better for doing it. Check it out….right now.