Drive laps the radio racetrack with Show 1000
By Staff Writer
Journalist Darren McErlain has a thousand reasons to celebrate a radio milestone. As a national police and political reporter, he has produced more than 1000 stories with Australian Independent Radio News. On Wednesday 24th of March he presented his 1000th Drive show on Newy 87.8FM in Newcastle!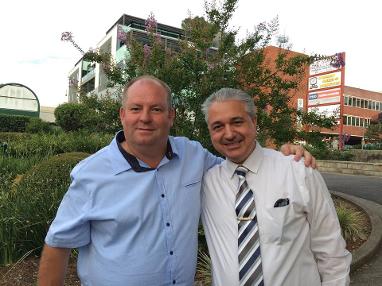 Photo: Craig Allen and Darren McErlain in Penrith
There was a strong buzz in the Newcastle region amongst Novocastrians when radio announcer Darren McErlain broadcasted his 1000th Drive on Newy 87.8FM.
If first aired in Newcastle on the old 2NN Newcastle Classic Hits on a Sunday afternoon on May 9 2020. The broadcast was just a test from 4-6pm.
It was such a success that Darren brought the Drive show back after a break of 13 monthsand it has been on the air each day ever since.
The show got a humble start on Air FM 88.0 Penrith on June 8 2017 and aired for a record 674 daily shows in a row until April 12 2019. The show was heard across Sydney`s west and kept the locals entertained 7 days per week from 3-6pm.
The previous owner suddenly passed away and this eventually brought the popular Penrith show to a close, and the station FM licence was eventually sold to another operator. The late Craig Allen owned the Classic Hits FM network across 9 regions. He had an absolute love for radio and the history of many local communities like Mudgee, Wollongong and Orange.
Drive returned as a national online show on the AIR News webstream for 6 episodes in October 2019 and took a national focus.
Darren is very familiar with the Newcastle region after presenting the breakfast show on 2NN back in 2014 and filing stories for Hunter TV Newcastle.
The Drive show was also the springboard for a popular radio history series Remember When in Penrith, and this flowed on to 8 other regions.
"My good friend Craig Allen commissioned the radio series – Remember When for several regional centres and this aired twice per day. The series still airs on other stations in New South Wales, Queensland and Victoria".
The Remember When series was also commissioned for television by executive producer Michael Costello, and went into production for Channel 31 in Melbourne and Aurora TV on Foxtel. Several audio recordings have been produced for North Melbourne and Regional Victoria but covid restrictions have delayed filming on location. The uncertainly of the future of community Television licences has also further prolonged the project.
During covid-19 lockdowns, many people working from home turned to radio to get updates on restrictions, shortages or keep them company. During the unpredictable pandemic, people wanted a combination of music and information.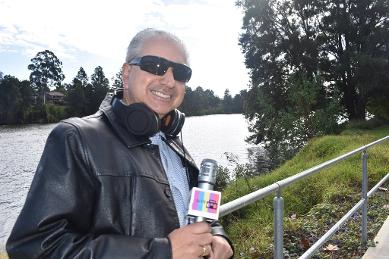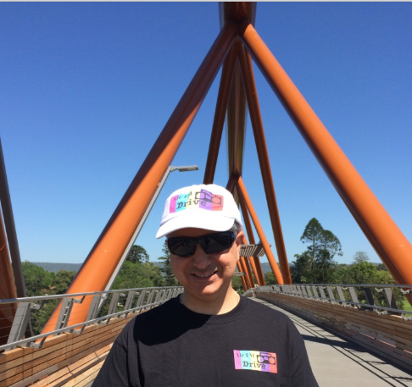 During the January 2020 bushfires and the lead up to the coronavirus pandemic in Australia, the need to get information quickly in the car or on devices became more important than ever.
"The landscape of news changed so quickly, there was often not enough time for outlets to get vision or photographs, so radio became the leader for news in the car, home and workplace."
"License fees for 2021-2022 should be discounted, to compensate all radio stations who experienced a drop in advertising revenue, " said Darren.
Many narrowcast and commercial radio stations suffered financially and relied on volunteers to keep organisations afloat.
"Drive in Newcastle was launched in the middle of the covid-19 pandemic, so many events were cancelled, and we had to build the community up with positive stories between the songs, " said Darren.
Darren works around the clock everyday wearing many hats to do what he loves in the fields of journalism, broadcasting and education.
"The mechanics of a typical day works to the fine tuning of great time management and plenty of black coffee, " he said.
Each morning Darren files a police story and political story for the breakfast AIR News and this broadcasts on close to 200 affiliate stations around Australia.
Drive on Newy 87.8FM plays a mix of 70s, 80s and crossover 90`s music. Newcastle residents are brought up to date with the local community events, information and entertainment.
"One minute we can be talking about flooding at a beach, to a drop in blood donors or promoting dragon boat racing. There is never a dull moment," said Darren.
Newy 87.8FM is now listed as one of the top 10 radio stations in the Newcastle region.
2NN Newcastle now known as Newy 87.8FM has been around since 2014 and currently airs Afternoons with local club entertainer Paul Rothapfel weekdays 1-4pm, and Feel Good weekends 6-9pm with journalist Matt Morris.
"Our Newy 87.8FM Engineer has an amazing television background with Hunter TV Newcastle and TVS Sydney, and handles all the technical and programming side of the station," said Darren.
Drive has a reasonable following on FM radio in Newcastle and online. Darren has no plans to leave the station anytime soon.
Join Darren McErlain 7 days per week for Drive on Newy 87.8FM in Newcastle or online newy.com.au 4-6pm (AEST). Follow the page on Facebook @drive426. Show 1000 aired on Wednesday March 24 at 4pm.